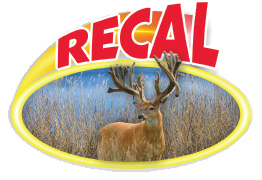 Testimonial from Gary Edwards (Thunder Bay Whitetails)
Hello everyone, We started raising deer at Thunder Bay Whitetails 20 years ago. I also have managed a large hunting ranch here in Michigan for the past 17 years. I look at a lot of deer on a daily basis from daylight till dark almost every day of the year. I have manually fed pellets at both facilities allowing us to monitor body condition and feeding trends daily. Over the years we have tried many different feed programs, some good & some so poor the deer wouldn't even eat them.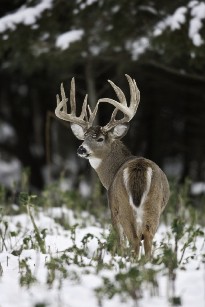 In the summer of 2010 we were at Eddie Ray Borkholder's farm, a trip we have made for 10 or 12 years. Eddie told me about a product he was top dressing his feed with called RECAL. He didn't try to sell me on the product but just gave me his honest assessment saying his deer were in the best condition he had seen in his long whitetail career. I immediately noticed his yearling bucks looking exceptionally well. After I left Eddie's I kept thinking about what I had seen & heard.
Shortly after at John Yoder's Great Lakes Classic sale I ran into Jamie Troxel, the sales rep for RECAL. He didn't push me into buying his product, he just explained it to me. I purchased a 10 lb. bucket still not sure if I would ever use anymore, thinking the last thing I need is to add more cost to my feed program. I went home and my wife, Terry, put 35 bottle fed doe fawns on RECAL by top dressing their dry feed. It was almost weaning time so we didn't feed any in the milk. Those doe fawns grew through the rest of the summer & into fall with no health issues & seemed to look & act better than normal. At weaning time we put all of our doe & buck fawns on RECAL, this was September.
From the stressful time of weaning thru the winter, we lost one fawn out of a total of over 80. The one loss was not a health issue. We only treated one fawn one time all fall & winter. I realize this could have been just very good luck but I did everything the same as in the past, same feed, same pens, same everything & we had almost no problems & the healthiest looking group of fawns ever. In the spring we put more deer on RECAL & we will continue to watch their health & body condition. We will continue to test RECAL by feeding it to some pens while others just get the standard feed.
I feel without a doubt it has boosted our deer's total health & well being. We all know that healthy deer not under any stress will out perform deer that are under stress, whether in antler growth or fawn production.
Thunder Bay Whitetails
Gary & Terry Edwards
24795 Kincaid Road
Hillman, MI 49746
Phone: 989-742-3432
Email: gedwards@speednetllc.com
thunderbaywhitetails.com

Back to Deer page