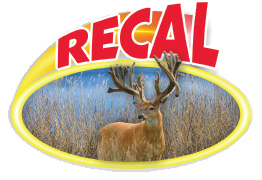 RECAL PLUS for Whitetail Deer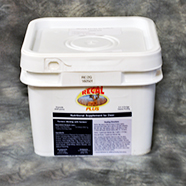 RECAL PLUS is a patent pending product developed over a 20 year period and was originally started by a farmer from Indiana. Through on farm testing and the combined efforts of one of the top microbiologists and one of the top dairy veterinarians in this field, the RECAL product has become what it is today. It is a unique combination of various strains of beneficial bacteria, enzymes, and a specific type of concentrated yeast culture. It was designed to establish and rapidly expand a superior rumen population heavily weighted toward fiber digestion and to produce high levels of B-vitamins mainly vitamin B-12. All probiotics are not the same, there are hundreds of various strains and combinations.
Advantages to feeding RECAL PLUS
Healthier rumen environment
Improved immune system
Improved reproduction
Stimulates dry matter intake
Improved feed utilization

Aids in blocking out salmonella & e-coli
Improved herd health
Improved body condition
Builds hemoglobin in the blood
Guaranteed Analysis (min.)
Lactic Acid Bacteria (live bacteria)……………… 3,500,000,000 CFU/gram
Ingredients:
Dried Enterococcus faecium fermentation product, Dried Lactobacillus acidophilus fermentation product, Dried Lactobacillus casei fermentation product, plant charcoal, clay, Dried Aspergillus oryzae fermentation product, Magnesium Stearate, Silicon dioxide, yeast extract and dried whey.
Feeding Directions:
Fawns after weaning : 2 grams / hd. / day Does and Bucks: 2 grams / hd./ day
Manufactured by:
JAY-TECH LLC
4758 W. 950 S.
Kewanna, IN. 46939


Distributed by:
RECAL Microbials
Jamie Troxel
330-601-2142

Back to Deer page